Description:
HEALING SOURCE "SAILAUKHAN SU" is an international standard of the quality of drinking, healing water and a universal medicinal product that is designed according to information From Above and is endowed with cosmic energy by the world famous Cosmo energetics specialist, the doctor of rehabilitation medicine – Mrs SAILAUKHAN AUELBAYEVA from Kazakhstan!
The talent from nature of Mrs SAILAUKHAN AUELBAYEVA is the phenomenon of the millennium! Thanks to Ms. Sailaukhan's energy, hundreds of significant projects have been achieved and implemented in the country and abroad. Among them, the most famous and scientifically validated is the healing source "SAILAUKHAN SU".
THE HEALING SOURCE "SAILAUKHAN SU" is made in the form of a bronze statue, with height of 3 m 20 cm with the image of Mrs Sailaukhan Auelbayeva at the age of 29, since it was at this time that Mrs. Sailaukhan began to possess the most powerful cosmic energy, becoming the most extraordinary phenomenon of our time.
From the unique, informational statue there flows medical, drinking, table, structured and activated water "SAILAUKHAN SU" rich in minerals and microelements.
Healing water from the source "SAILAUKHAN SU" is maximally available and safe, has many curative properties – antimicrobial, antifungal, antiviral, anti-inflammatory, analgesic, hemostatic and tonic. It effectively resists many diseases, including chronic and intractable, as oncology, diabetes, hypertension, hypotension, skin diseases.
THE HEALING SOURCE "SAILAUKHAN SU" has powerful energy-making properties, being next to it, a person is automatically charged with positive energy, his aura changes, and his state of health and mood changes, there is a surge of strength and vigor of spirit, all ailments disappears at the cellular level.
THE HEALING SOURCE "SAILAUKHAN SU" IS OMNIPOTENT! Its water is an excellent natural antioxidant and stimulant that treats diseases of stomach, liver, kidneys, cardiovascular, respiratory, digestive and nervous systems. It improves blood circulation, cleanses blood, tissues and the entire body from toxins, heavy metals, allergens, increases immunity and is the supplier of amino acids to the cells of our body.
​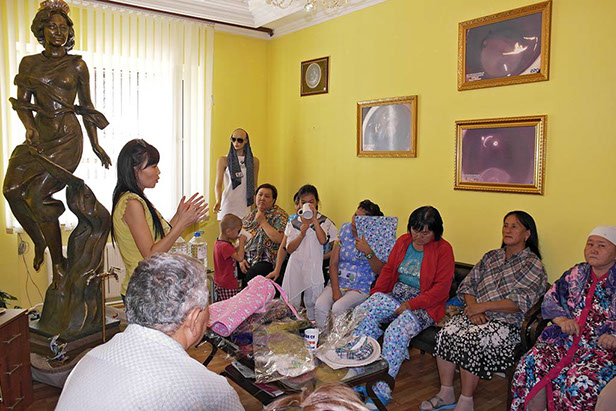 With the help of water from the HEALING SOURCE "SAILAUKHAN SU", diseases of ear, throat, nose, anemia, tuberculosis, asthma, meningitis, as well as headache, diseases of male and female genitourinary system, musculoskeletal system and obesity are cured. Unique water enriches body with oxygen, strengthens willpower and potential capabilities of a person, prepares pregnant women for childbirth and normalizes the period of pregnancy, normalizes hormonal system, and struggles with insomnia. Applying medicinal water from the source one can eliminate the consequences of any injuries, sprains, seizures and maintain a good mental state. It was revealed that when drinking regime was observed, people were less exposed to stress, nervous exhaustion and depression.
An important point is prevention of all diseases, as well as preparation for surgery and recovery with the help of healing water in postoperative period.
HEALING SOURCE "SAILAUKHAN SU" is a clear example of the fact that almost all diseases can undoubtedly be cured!
Rejuvenation, beautiful old age – all this can be obtained with the help of water therapy from the HEALING SOURCE "SAILAUKHAN SU"! Rare water has a cosmetological effect. It positively affects growth and structure of hair, skin and body, eliminating dryness, fine and large wrinkles. And most importantly – thanks to internal and external application your family and the future generation – children, grandchildren and great-grandchildren will always be healthy. Such healing miraculous water can be used in preparation of tea and various dishes in everyday life. This information should be taken up by the manufacturers of any beverages and public catering workers.
In addition to drinking regime, one should wash oneself with water, swim in it, do rubbing, relaxing baths, inhalations and lotions. This is an excellent help to return health for your eyes. Using "SAILAUKHAN SU" during wet cleaning of the apartment, washing and rinsing laundry is a good way to get not only the perfect cleanliness in the room, where the atmosphere of calm and well-being will always reign, which is so important for family life, but also the opportunity to wear clothes with a charged energetics. So you will always feel great.
The energy of water will protect your home, make your pet healthier from all diseases and clean all objects, and will also prevent accidents when driving a car, if it is washed with water from a source.
"SAILAUKHAN SU" is a real medicinal, energy-informational medicine that protects a person from external negative impact – evil eye, spoilage, curses and other bad thoughts of people. This is environmental protection against harmful production factors.
The healing water from the source "SAILAUKHAN SU" is an excellent solution for filling swimming pools. Such water does not need chlorination, fans of swimming can never "pick up" an infection, they are charged with its magnificent properties and will always be vigorous, strong and enduring.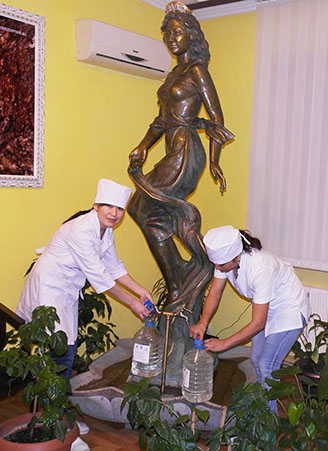 The water "SAILAUKHAN SU" was highly appreciated and recognized at an international level. The Socrates Committee of the European Business Assembly awarded water from "SAILAUKHAN SU" source "European Quality Award" (Great Britain, London, 2013), the International Certificate of the Swiss Institute for Quality Standards SIQS (Switzerland, Zurich, 2013), the high award "Best technologies of restorative medicine" for the development and implementation of new diagnostic, preventive, treatment and recovery technologies (Italy, Stresa, 2014), International Certificate of Investment and Innovation Attractiveness (Great Britain, Oxford, 2015), diploma and certificate for participation in the open international competition "Health and Tourism Stars" in the nomination "Advanced Healthcare Products of the World" (Great Britain, Oxford, 2016).
"SAILAUKHAN SU" can contribute a lot to the development of international tourism and also to such sectors as medicine, livestock, agriculture and many others.
It is proved effective for growing large and small cattle and obtaining high-quality meat, milk and rich harvest. This is confirmed by scientifically set experiments and long-term studies.
With the help of healing water from the source "SAILAUKHAN SU" you can water house plants, gardens, greenhouses, keep greenhouses, get rid of the Colorado beetle and other pests of agricultural crops. At that, when watering, the composition of the soil changes qualitatively, it becomes friable and loose, it no longer needs to add peat and sand, chemicals. In such soil, manure and plant residues easily rot. Thus, you will get the most effective result from using natural water "SAILAUKHAN SU"!
Thanks to the unique, healing properties of water from the source "SAILAUKHAN SU" you can build a bath house, a sauna.
And also it is possible to design a hydropathic institution – the most modern sanatorium-resort facility, based on the healing water "SAILAUKHAN SU". There it will be possible to conduct the most unique medical procedures, which will certainly become popular among the population. This, by the way, is an excellent alternative to expensive treatment in other countries.
To effectively implement such a medical facility, it is necessary to put the pump room of the water "SAILAUKHAN SU", as well as a TV broadcasting transmissions about healing water, where visitors can be treated and simultaneously receive important information about "Sailaukhan Su", see and hear reviews of patients and comments of doctors about its benefits. In hydropathic institution you can also place an art gallery with water "SAILAUKHAN SU". These are "living pictures", which can be purchased in large quantities in the medical and rehabilitation complex "Sailaukhan". By the way, the art gallery "SAILAUKHAN SU" received a wide response when exhibited at the international exhibition "The Great Secret of Water "SAILAUKHAN SU". (Kazakhstan, Almaty, 2014).
Having such a therapeutic and sanitary water treatment facility, your medical institution will represent a single, integrated health improvement system and will surely win a positive reputation of high level of care and the most non-standard approach to treatment.
In addition, the potential of the HEALING SOURCE "SAILAUKHAN SU" is able to provide quality and clean water to the whole city – houses, hospitals and polyclinics, kindergartens and schools, restaurants and cafes, business centers and other institutions. So residents and visitors of the city will be provided with strong health.
Special attention to the importance of water "SAILAUKHAN SU" should be paid by the city authorities while opening of the fountains.
HEALING SOURCE "SAILAUKHAN SU" is an opportunity to build a new business. Just with the help of medicinal water "Sailaukhan Su" it is possible to launch production and sale of bottled pure water for drinking, which has no analogues in the whole world.
Summarizing the above, let us turn to the scientific researches of the HEALING SOURCE "SAILAUKHAN SU", which were conducted by a group of Kazakhstani and foreign scientists on different indicators. In the course of a large research work, the effectiveness of this unique method has been repeatedly proved, which allows restore strength and health of the human body. It is proved that the condition of even seriously ill people has improved and stabilized in a short period of time. In addition, the HEALING SOURCE "SAILAUKHAN SU" is a real elixir of youth and longevity.
1. Thus, from the test reports No. 142 as of 10.09.2013 and No. 126 08.2013, performed in the Specialized Test Laboratory of Balneology of the Republican state enterprise on the right of economic management "Research Institute of Cardiology and Internal Diseases" of the Ministry of Health of the RK, it was established: "A sample of bottled drinking medicinal table water with the trade name "Sailaukhan Su" spilled from the source – the statue "Sailaukhan SU" is a slightly mineralized (0.39 g/dm3) slightly alkaline (рH-8.0) bicarbonate sodium-magnesium-calcium water of moderate total hardness (3.880 mmol/dm3), is intended for drinking and balneotherapy. The fluorine content is 1.28 mg/dm3 with the maximum permissible concentration for drinking water –1,50 mg/dm3.
This bottled water is characterized by the following Kurlova formula:
(НСОз +СОз) 77/SО4 12CI 5/
М 0,38 -----------------------------------------; рН -8,0-8,4
Ca 22 Mg 25 Na21/ K2/
In general, the sanitary-chemical state of water is satisfactory and heavy metals are detected in concentrations below the maximum permissible levels. Ammonium, nitrates are absent. Organoleptic indicators meet the requirements of regulatory documents. The physiological presence of these components increases the physiological usefulness of internal intake of this water, will contribute to prevention of a number of diseases.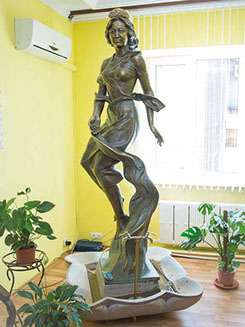 2. As of 2013 water is preliminarily estimated as corresponding to the "Uniform Sanitary and Epidemiological Requirements for Goods Subject to Sanitary and Epidemiological Supervision" approved by the decision of the Customs Union No. 299 as of 28.05.2010, Chapter II, Section 21, to the Sanitary Rules (Lists of resolutions of RK as of 01.12.2011 No. 1432) as drinking water, as corresponding to the Technical Regulations (Lists of resolutions of RK No. 551 as of 09.06.08) and Technical regulations of the Customs TR of the CU 021/2011 "On Food Safety", approved by the Commission Decision of the CU as of 09.12.2011 No. 800 in the status of drinking medicinal table water intended for drinking and balneotherapy. It can also be used to quench thirst, normalize metabolic processes in body, to enhance immunity, in preparation of various foods. In balneological respect, it should be noted the balanced presence of calcium, magnesium, potassium, and hydrocarbonate ions in the studied water.
3. This bottled water with the trade name "Sailaukhan Su" can be recommended for the treatment and prevention of the following diseases, provided that the following procedures are followed: Diseases of the digestive system – chronic gastritis with insufficiently preserved increased secretory function, chronic colitis with dyskinetic syndrome, liver and bile duct diseases (cholelithiasis, cholecystitis, dyskinesia of the gallbladder, and bile ducts). Diseases of the genitourinary sphere (chronic cystitis, urolithiasis). 3. Syndrome of chronic fatigue.
4. According to the scientists of the Laboratory of Immunology of the National Center for Obstetrics, Gynecology and Perinatology, water from the healing source "Sailaukhan SU" is similar to the influence of antioxidants. It has truly unique properties, and at the moment it has no equal in its physicochemical composition, content of microelements (selenium, magnesium, zinc, bicarbonate, calcium and much more).
5. And the most significant, high appreciation water "SAILAUKHAN SU" received From Above.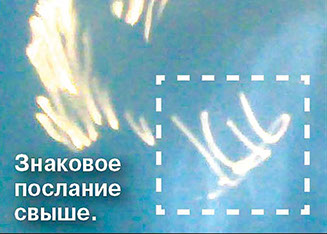 PAY ATTENTION! TO THE WORD "HALAL" ON THE WATER "SAILAUKHAN SU"!!! (today photos reflecting topical themes, environmental problems in the form of various signs and symbols on and in the water "SAILAUKHAN SU" there are more than five thousand).
Note:
The well-known medical and rehabilitation complex "SAILAUKHAN", headed by the general director, the chief physician-rehabilitation specialist and the author of more than 100 author's methods of treatment, SAILAUKHAN AUELBAYEVA works on the basis of the world-famous water "SAILAUKHAN SU" for 18 years.
HEALING SOURCE "SAILAUKHAN SU" apart from health, changes the fate of people in a positive way, helps humanity to move to a new stage of evolution.
By purchasing HEALING SOURCE "SAILAUKHAN SU" you will get a unique chance to apply it for any purpose. Wherever you move and wherever you put the healing source, the unique healing water "SAILAUKHAN SU' will always be near you!
With all questions of purchasing HEALING SOURCE "SAILAUKHAN SU" please contact:
The Republic of Kazakhstan, Almaty. Tel.: 8-701-179-06-06, 8-707-203-60-35, +7-777-827-88-98.
sailaukhan.kz@mail.ru,
sailaukhan.kz